Main features
1. Compatible with the latest 5 standards of digital terrestrial broadcasting in the world.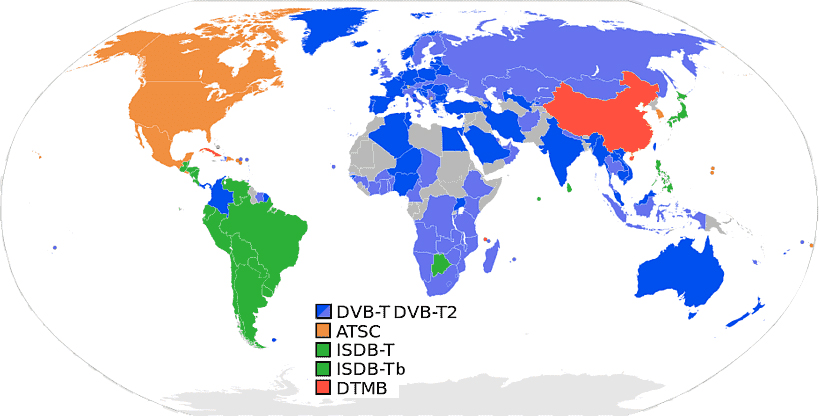 The terrestrial digital broadcasting standards in major regions are as indicated below. (Circa August 2022)
DVB-T/T2/T2 HEVC

European countries, Russia, Australia,
Taiwan, Singapore, Thailand, UAE, etc.

ATSC

USA, Canada, Korea

ISDB-T

Japan

ISDB-Tb

South America, Philippines, etc.

DTMB

China, Hong Kong, etc.
Precautions for viewing terrestrial broadcasting
・To receive terrestrial digital broadcasts, it is necessary to have the corresponding TV antenna.
・Even if the antenna and this product are set up properly, and correctly connected, reception of terrestrial digital broadcasts will be impossible in countries without terrestrial digital broadcasting. In addition, various problems may occur such as blocking of signals by neighboring buildings, inability to receive weak signals, only being able to receive specific broadcasting channels, audio cutting out, and stopping of video, and appearance of block noise.
・Topographic conditions as well as weather conditions have great influence on TV terrestrial reception range.
・Pay broadcasts (scrambled broadcast) cannot be viewed.
・Not supported AVS China
2. Two in One.
You can enjoy both digital terrestrial broadcasts and internet connection.
*Internet (communication line and Internet service provider contract) is required.
*Paid contents cannot be viewed.
*Some functions such as Japanese input are not possible, because it is equipped with a web browser with simple functions.
3. Intuitive scan function
Simply select the region (broadcasting standard) using the remote controller.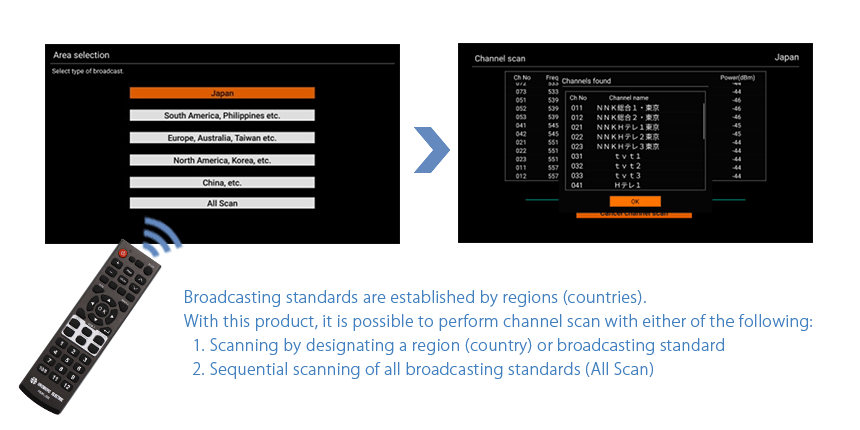 4. Easy connection with
analog world wide TV
For analog viewing in countries that continue analog terrestrial TV broadcasting.
An antenna through-out output terminal is provided on the main unit for analog world wide TV connection.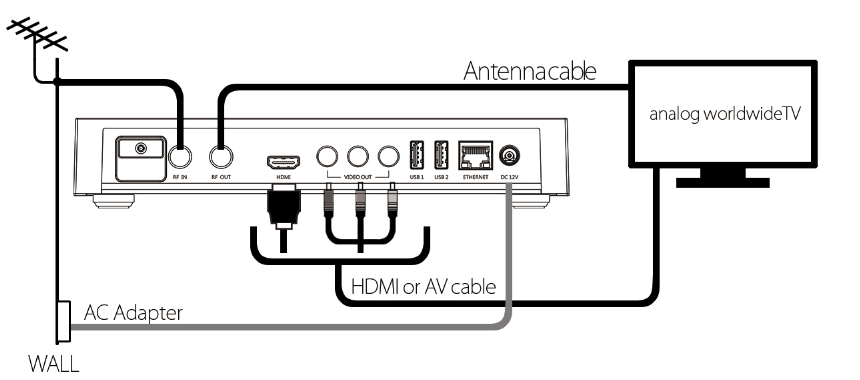 It is recommended that you connect the tuner and your analog TV as shown above. With this connection, you can watch
・digital TV in regions (countries) where terrestrial digital broadcasting is available using SMART DIGITAL TUNER.
・analog TV in regions (countries) where terrestrial analog broadcasting is available using your analog worldwide TV.
Specifications
Product name
SMART DIGITAL TUNER Worldwide
Model
KST-2000-W
TV Formats supported
Digital terrestrial TV broadcasting standards
・ATSC1.0, DVB-T, DVB-T2/T2 HEVC, ISDB-T, ISDB-TB, DTMB (Not supported AVS China)
Interface
HDMI output
RCA video output
USB x2
LAN
Antenna input/output (RF pass-through output)
DC Jack
AC adapter
AC100 - 240V 50/60Hz
Power consumption (Approx.)
8W
Operating temperature
0 - 40℃
Operating humidity
20-80% No condensation
Dimensions
242mm(W) x 44 mm(H) x 125mm(D)
Mass (Approx.)
450g
Remote controller
| | |
| --- | --- |
| Batteries  | Size AAA Batteries (1.5V) x 2 |
| Size | 49mm(W) x 27mm(H) x 185mm(D) |
| Mass (Approx.) | 82g (excl. batteries) |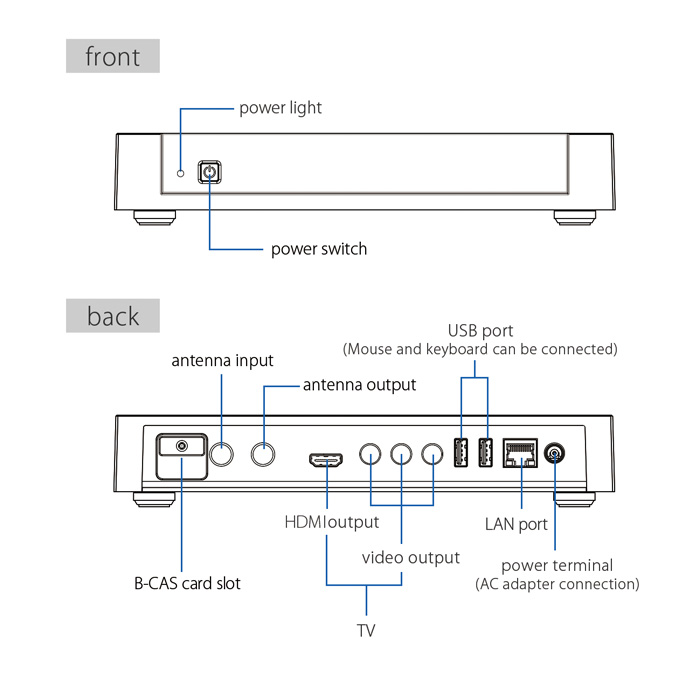 Download
Adobe Acrobat is required for viewing the documents. Acrobat Reader is available free of charge from the Adobe website.